If you've been feeling doughy and bloated around your midriff, a go to list of belly fat burning juice recipes will be your biggest ally in your fight against that midline bulge.
And it's an important fight, too, since belly fat isn't just unsightly to look at. It can actually be dangerous.
You see, belly fat is also known as visceral fat, which is the fat that builds up around your organs. This type of fat is known to fuel inflammation and has been linked to premature aging and disease, including high blood pressure, heart disease, and even type 2 diabetes.
Nobody needs that. Especially when there are delicious belly fat burning juice recipes that are cleverly concocted with low calorie fruits, the most beneficial veggies and thermogenic foods to help burn away the fat faster. Here are our favorites!
6 Tasty Belly Fat Burning Juice Recipes
A juice to lose belly fat? Sounds too good to be true. But the fruits, veggies and herbs that make up the ingredients in these brilliant belly fat burning juice recipes will boost your metabolism, improve your digestion, and even provide the circulation and heat necessary to get that fat burning!
Crucifers to the Rescue Juice to Lose Belly Fat
Do you always end up with frustration after trying the latest 'diet' fad? Get some serious help in reaching your weight loss goals by adding cruciferous vegetables to your juicing regimen.
They contain 2 important phytonutrients: I3C (Indole-3-Carbinol) and DIM (Diindolylmethane) that help your body to metabolize foods more efficiently and also play a role in the breakdown and elimination of fats. From the juicing health desk of Rika Susan, this is one of the best belly fat burning juice recipes!
What you need:
1 Cup pineapple, cubed (wash before cutting)
6 Broccoli florets
6 Brussels sprouts
4 Arugula (rocket) leaves
1/2 Medium cucumber
1 Kiwi fruit
1/2 Medium beet
Optional: Shredded coconut for sweetness
Preparation:
1. Wash all the ingredients, except pineapple cubes and coconut
2. Section broccoli as necessary.
3. Halve brussels sprouts
4. Roll arugula leaves into tight balls for juicing
5. Peel cucumber only if waxed
6. Peel kiwi fruit thinly, discarding skin
7. Peel beet thinly, discarding skin and greens
8. Juice and pour over crushed ice
9. Optional: Stir in some shredded coconut
Spicy Belly Fat Burning Juice
Do you like a little bit of spice? This simple belly fat burning juice recipe has a cucumber/celery juice flavor with a nice kick to it! It's very easy to make and is reasonably simple in flavor beside the added kick!
What you need:
3 Cucumbers
1 Bunch Celery
1 Chili Pepper
1 Large knuckle Ginger
If you want something more precise
(6 cups chopped) Cucumbers = 25 ounces juice
(8 cups chopped) Celery = 24 ounces juice
(1/4 cup chopped) Chili Pepper = under an ounce of juice
(1/3 cup chopped) fresh Ginger = 1 ounce juice
Yields around 50 to 51 ounces of juice.
Did you know that aside from their culinary value, chili peppers are also value for weight loss benefits? Capsaicin, a compound responsible for the hotness of many peppers, is thought to increase the rate at which the body burns fat, ease pain, lower cholesterol and support healthy heart function. The compound is especially studied for its ability to aid in weight loss, where researchers from Purdue University in Indiana found that capsaicin reduces hunger and increases energy expenditure. Consuming red chili peppers can cause people to feel less hungry overall – particularly for fatty, sweet, and salty foods. Fire up weight loss!
Green Pineapple Fat Busting Juice Recipe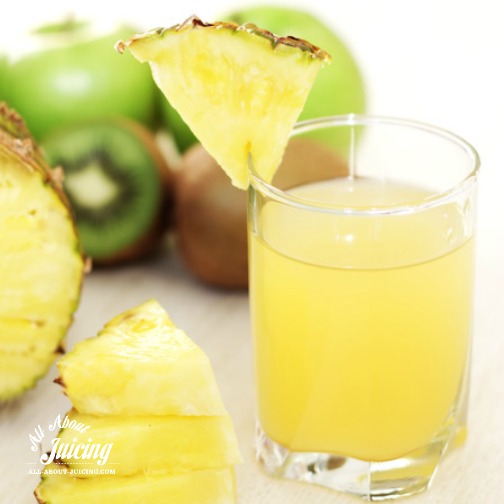 Sweep away the toxins and fat with this refreshing juice recipe.
Image Source: All About Juicing
What you need:
1/2 of a pineapple
1 small bunch of broccoli, equal to 2 cups
1 long cucumber
1 kiwi
Preparation: Peel the kiwi, and juice the broccoli, kiwi, pineapple and cucumber. Serve immediately.
Read more juicing for weight loss recipes here: http://www.all-about-juicing.com/juices-for-weight-loss.html they are very simple and can be incorporated into any juicing program you're on.
Vanessa, the creator of the site, lost 30 lbs through juicing and has managed to keep the scale from soaring upwards for over a decade! Her tip to reap the full benefits from these juicing recipes: You'll want to be sure you have good fresh produce and clean it well before juicing. Organic is best!
Mean Green Juice
This is Joe Cross' Fat Sick & Nearly Dead recipe called Mean Green. Granny Smiths are recommended, but you can use your favorite apples.
Image Source: JuiceRecipes.com
What you need:
Apples – 2 medium (3″ dia) 364g
Celery – 4 stalk, large (11″-12″ long) 256g
Cucumber – 1 cucumber (8-1/4″) 301g
Ginger Root – 1 thumb (1″ dia) 24g
Kale – 6 leaf (8-12″) 210g
Lemon – 1/2 fruit (2-3/8″ dia) 42g
Preparation: Process all ingredients in a juicer, shake or stir and serve. Yields 30 oz.
Read more recipes specifically tailored for weight loss here: https://juicerecipes.com/recipes/mean-green-25 What also sets this blog apart from the others is the list of health benefits for each recipe, accessible with an extended page option.
Summer is just around the corner. You need a super low-calorie food to aid weight loss so you can fit in your swimsuit! Celery is probably among the first in the list. Crisp and pale green, it is packed with fiber and nutrients, but very low in calories, making it a great option for dieters.
Blake Lively's Go-To Juice
This is one of Blake Lively's favorite juices – and probably ours, when it comes to belly fat burning juice recipes! The parsley and beets act as a natural diuretic, helping to eliminate excess fluid from the body.
Image Source: Women's Health Mag
What you need:
1 cup kale
2 leaves Swiss chard
1/2 cup parsley
1/2 small beet
1/2 cup pineapple
2 medium green apples
1 sprig fresh mint
1/2 medium lemon, peeled
Preparation:
Combine all ingredients in a juicer. Alternatively, you could also combine them in a blender and add water to make a blender juice. Find 2 more juicing for weight loss recipes here: http://www.womenshealthmag.com/weight-loss/weight-loss-juice-recipes
If you are looking to maximize the weight loss benefits of these recipes, Katie Cavuto, a Registered Dietitian, Culinary Nutritionist, Writer, Spokesperson, and Media Personality, recommends making what she dubbed as 'a blender juice'. 'Blending' your juice involves adding all of the ingredients called for in any juice recipe to a blender and adding some water before mixing them together. The added benefit: you will get the fiber that 'cold-pressed' juices are missing!
Beach Babe Juice Recipe for Weight Loss
Don't you like this juice recipe's name? 😉 This Beach Babe Juice aids in weight loss while acting as a detoxifier and appetite suppressant when drunk first thing in the morning.

Image Source: LindaWagner.net
What you need:
1 cucumber
1 head romaine lettuce
1 lemon, peeled
1 lime, peeled
1 orange, peeled
2 apples
1 pint berries – I used blackberry and raspberry
4 large carrots
Preparation: Simply run all ingredients through a juicer (I recommend Breville) and feel the ZING!! (Makes 32oz) Drink first thing in the morning as a replacement for your breakfast meal. Yields 30 ounces.
See the breakdown of nutrients and benefits of the Beach Babe juice here: http://lindawagner.net/blog/2015/02/beach-babe-juice-recipe-weight-loss/index.html
Looking for a year-round beach bod? Berries are your go-to snack and you can always throw them in your juice recipes. Raspberries have been shown to contain a natural substance called ketones, which are similar to capsaicin, the compound that gives hot peppers their fire and acts as metabolism booster. Berries are also a terrific source of fiber, another key factor in keeping your weight at bay.
Belly Fat Burning Grapefruit Infusion Cocktail
Juicing is not only a great way to start the day; it's also a fantastic way to kick-off happy hour. This metabolism-boosting grapefruit infusion cocktail will make you want to skip the bar and DIY.
Image Source: Raw Edibles
What you need:
2 large organic grapefruit
5-6 large carrots
4-6 inches ginger root
1 lime
Optional: hot pepper (cayenne, habanero, etc.) for added metabolism boosting effects
Take the above ingredients and juice them in a juicer (such as the Omega 8006 – or other juicer). Alternatively, you could blend these ingredients then strain them in a cheese cloth/nut milk bag. Enjoy!
Enjoy more juicing and raw edible recipes here: http://rawedibles.blogspot.ca/2013/09/metabolism-boosting-grapefruit-infusion.html
We often try to eat less in order to lose weight. This mentality is not the best, mainly because it can lead to a metabolism that shuts down and makes us end up gaining weight instead of losing weight.
When we eat such little calories our bodies, naturally, go into starvation mode and begin storing fat at any cost possible. Choosing nutrient rich foods that boost your metabolism will allow your body to efficiently turn food into energy which will allow you to reach your desired weight without feeling hungry all the time.
Start with this metabolism-boosting grapefruit infusion cocktail!